Normandy Remodeling
Making Chicagoland Homeowners' Dreams Reality
Normandy needed a modern, functional, and elegant website to match not only the scale of their operations and experience, but also their strong reputation as the best home remodeler in the Chicagoland area. Fortress delivered a website of over 1600 pages that works FOR the client through user-friendliness and high-complexity backend functions.
THE CHALLENGE
Create a site that maintains Normandy's high SEO ranking, ensuring that aesthetics and user-friendliness can coexist naturally on a large scale.
THE SOLUTION
With beautiful design and no functionalities unexplored, Fortress delivered a website that is built to last and built to thrive alongside Normandy for years to come.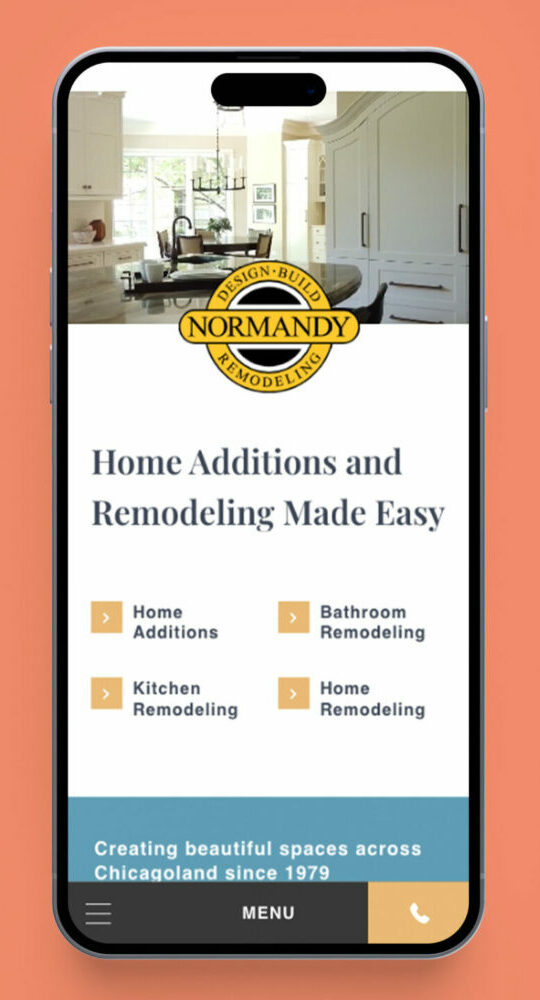 FRONT END
If one word could describe this website – one of the largest and most complex we've ever built – it would be 'thorough.' Each designer's profile page, each blog, each FAQ, each case study, and each review are ALL easily accessible and truly provide value for the user looking at them.
ADDITIONAL DETAILS & FUNCTIONS
Fortress succeeded in our goal of maintaining Normandy's high SEO ranking, creating client satisfaction on a major objective of the project, increasing their total clicks from 3.09K → 5.81K
Fortress built functionalities for modular control over individual pages that are maintained by the client, such as adding or removing sections without breaking the layout
Custom expanding and collapsing FAQ menu
Ability for the backend user to search for projects based on designer, location, type, etc.
Complex tagging structure that connects several different pieces of information. For example, a designer can be tagged with projects, locations, awards, blogs. These are then all filtered to show in the correct places across the site.
User experience was designed and developed with several things in mind: Ease of navigation, mobile friendly, site speed, multiple places to reach out and get in contact with.